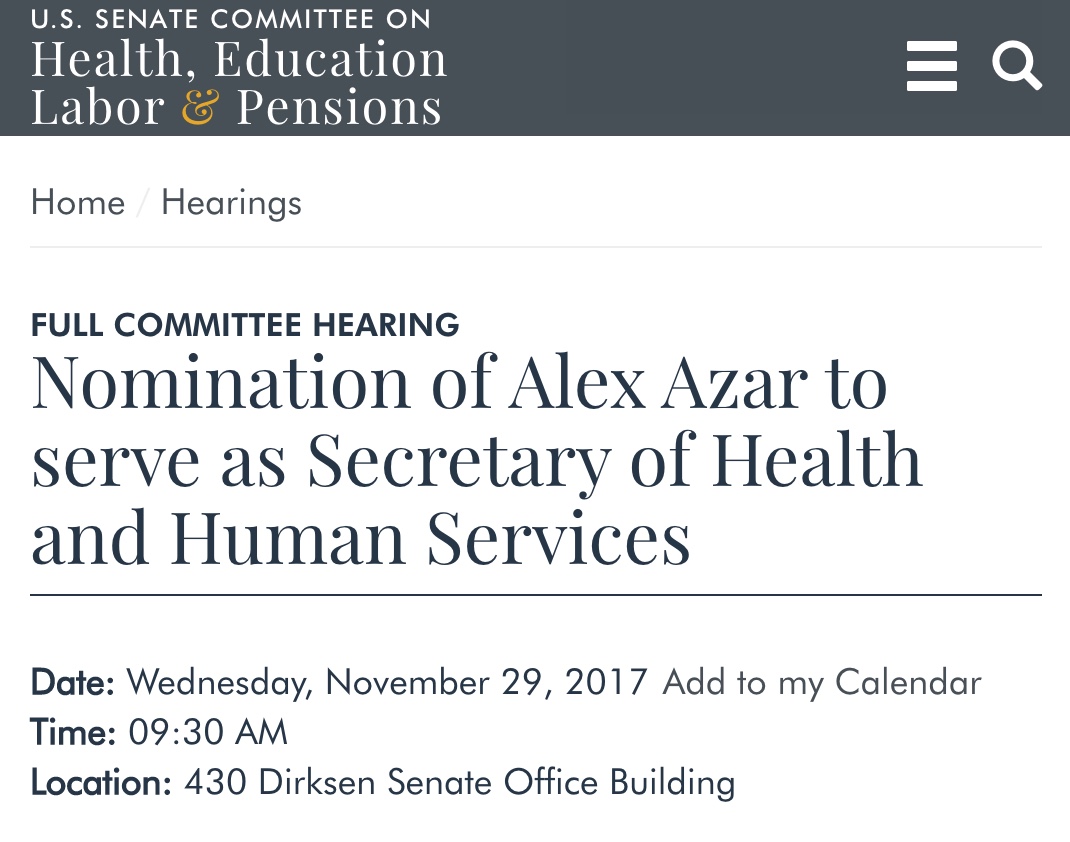 The Type 1 Diabetes Defense Foundation has reached out to Senator Lamar Alexander (R-TN), Chairman of the U.S. Senate H.E.L.P. Committee, and Senator Patty Murray (D-WA), Ranking Democratic Member, and other members of the HELP Committee, in anticipation of the full committee hearing scheduled for November 29 on the nomination of Alex Azar to serve as Secretary of Health and Human Services.
T1DF has asked committee members, on behalf of their constituents with type 1 and other insulin dependent diabetes, to consider with all serious deliberation whether Alex Azar is the right choice to solve America's current drug-pricing crisis.
The Type 1 Diabetes Defense Foundation is deeply concerned by the nomination of Alex Azar to lead the Department of Health and Human Services. Over the years Mr. Azar has cultivated a public persona as an advocate of efficient market solutions and consumer empowerment. Mr. Azar, as Deputy Secretary of Health and Human Services, once preached that "[s]trong competition creates choices and better prices and benefits everyone" (February 2006, Aspen Institute, Berlin, Germany). Yet as president of Lilly USA, he also demonstrated a willingness to sacrifice patient welfare in order to claim and retain for Lilly market domination in diabetes drugs, and perpetuate, at the expense of consumers, an increasingly opaque reimbursement scheme that solely benefits manufacturers, PBMs and payers.
We are skeptical that an Azar-led HHS would deliver the most meaningful solution: downward pressure on list prices via regulatory enforcement of point-of-sale consumer protections, including transparency on net drug cost to insurance plans. More specifically:
Mr. Azar condoned a reimbursement scheme knowing it misled consumers and resulted in overpricing of insulin. As president of Lilly USA, Mr. Azar continued the company's participation in opaque reimbursement contracts with PBMs and insurers, knowing that large rebates were not reaching consumers. In a November 2016 talk at the Manhattan Institute, he acknowledged, "[Eli Lilly USA] may be paying 50 to 60% rebate to the insurance company, but the patient isn't seeing that." Mr. Azar also admitted that at the other end of Lilly's reimbursement contracts "a significant number of people who already paid premiums for their health insurance then end up paying more than their insurer does for a medicine" (Manhattan Institute, 11/2016). List price for Humalog has increased by over 1,000% since Lilly first brought it to market in the late 1990s. With rebates on Humalog now estimated to be 75%+ off list price, some patients may now pay as much as four times their insurer's net drug cost.

Mr. Azar engaged in the above-mentioned reimbursement scheme knowing that it directly harmed patients. Mr. Azar has publicly recognized that when Lilly raised list prices to accommodate massive rebating to insurers, this system caused actual harm to people with diabetes: "[W]hen patients have to pay more than 50 or $100 to fill a prescription huge numbers of them simply walk away. That renders them less healthy and more likely to rack up a big [medical] bill later on" (Manhattan Institute, 11/2016).

Lilly's reimbursement scheme, under Mr. Azar, also resulted in the overpricing of life-saving emergency glucagon kits. Mr. Azar oversaw, during 5 years as president of Lilly, a greater than 100% increase in its list price for emergency injectable glucagon kits. High list prices for glucagon kits deter insulin users from buying and carrying these kits—which treat severe hypoglycemia, a potentially life-threatening side effect of Lilly's own insulin products. High list prices have also deterred Departments of Health in Washington, Utah, and several other states from stocking their ambulances with glucagon. This has particularly put young children with type 1 diabetes—many of whose public schools refuse to provide on-site emergency care and instead rely on EMS—at higher risk of severe physical harm or death.

Mr. Azar's Lilly USA apparently protected the above-mentioned reimbursement scheme by delaying access to market for cheaper, more effective nasal glucagon. During Mr. Azar's tenure, Lilly may have delayed or failed to support progress to market for easier-to-use, more effective, and substantially cheaper emergency glucagon treatment. For example, in 2015 Lilly acquired rights from Locemia to nasal glucagon—then in Phase III development—but has since failed to progress to commercialization (open-ended delay to filing an ANDA application), possibly to protect less effective but highly rebated current injectable glucagon kits.

Mr. Azar supports a transition from transaction-based to outcome-based reimbursement (value pricing) that would increase drug pricing opacity and complexity. He has stated support for transition to value-pricing/outcome-pricing mechanisms—which would further reduce drug pricing transparency—while making no related commitment to bringing down inflated list prices. Outcome- and value-based reimbursement contracts would anchor insulin list prices at current outrageous levels and increase the opacity and complexity of drug pricing.

Mr. Azar supports policies that would increase the number of Americans with diabetes who are uninsured or underinsured. As an outspoken critic of the ACA and supporter of Medicaid block grants to states, Mr. Azar may favor legislative or regulatory changes that will increase the number of Americans with diabetes who are uninsured. Reducing population access to health insurance, if combined with active commitment to low and transparent drug prices, may be ideologically consistent. Reducing access to insurance, while supporting opaque insurer reimbursement contracts that place drugs beyond reach of the uninsured, is not.
Our prior statement (https://www.t1df.org/news/2017/11/15/t1df-statement-on-the-nomination-of-alex-azar) describes a number of Mr. Azar's actions and public positions that have hurt the most vulnerable people with insulin dependent diabetes, especially the uninsured, those on high-deductible or high coinsurance plans, and Medicare Part D beneficiaries.
The letters to Senators Alexander and Murray are available below: